The below article will show and explain how to setup and use PrintMate Quick Folders.
By default, after installing PrintMate you will have a folder named PrintMate Quick Print located on your desktop. Providing that PrintMate is running ( there will be an icon located in the hidden icons) whenever you drop a compatible file (JPG, JPEG, PNG, PDF) within this folder, it will be picked up by PrintMate ready for printing.
You can add more of such folders as well as customize them with your preferred print settings based on printer, inks and the product(s) you will be creating.
Accessing Quick Folder Manager
To create a new Quick Folder or edit the current one, go to Quick Print Folders.



Now you have either option of Manage Current Folders or Add New Folder.


Manage Current Folders
If you wish to make changes to your current Quick Print Folders, select Manage Current Folders, select the folder you wish to make changes to. You also have the option to Pause the scanning of this folder or Remove the folder altogether.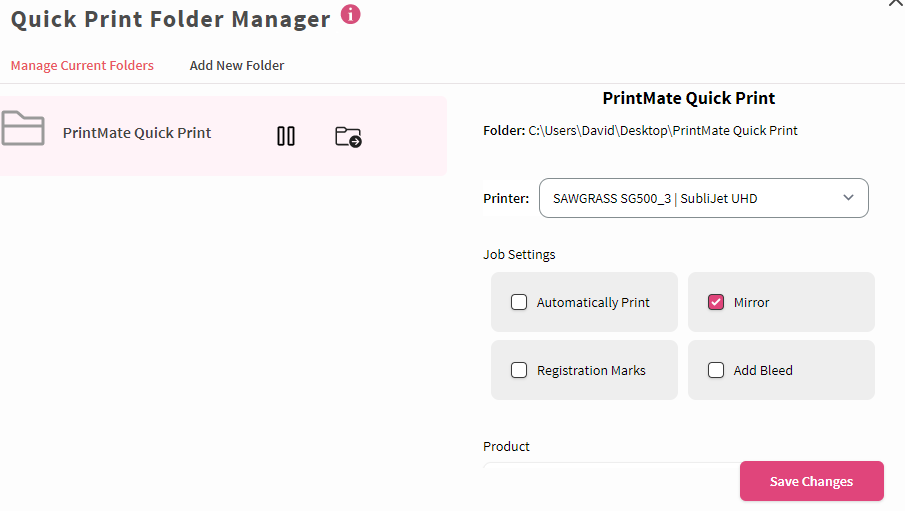 From here you can now edit any of the available Print Settings as well as the Printer assigned to this Quick Print Folder.
An important feature of the Quick Print Folder, is the ability to enable Automatic Printing. Located under the Job Settings section is the Automatically Print option. This will enable you to simply drop the files you wish to print into the Quick Print Folder and they will automatically be sent to print without the PrintMate print settings window appear.
Add New Folder
If however you wish to add a new folder, then select Add New Folder. You can add as many folder as you wish. This can help speed up productivity by creating a new folder for every product you create and setting them to Auto Print. For example you may have one folder with Mug specific settings as well another folder setup for creating Metal panels. All you then need to do it drag and drop your image into the desired folder and it will be sent to print, with the correct settings.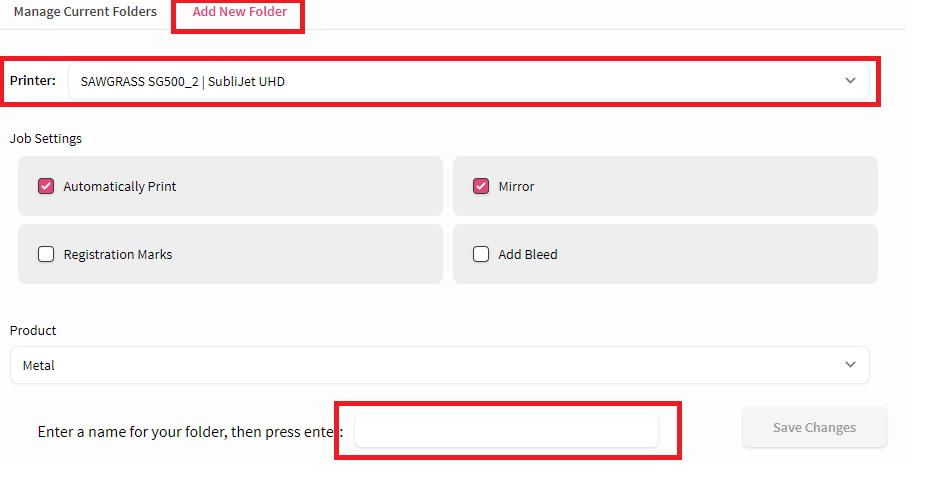 When setting up your new folder dont forget to set the folder name and location of this new Folder (OneDrive is not supported) as well as the printer, should you have more than one.


If you are still experiencing issues or have further questions, please contact our Sawgrass Care Team for assistance by click the 'Support' button on the bottom right of the page, or click here.