Are you seeing lines across your prints?
Never fear! Your Sawgrass Care Team is here!
Follow the steps below and your images should clear up quickly. If you do all of these steps and still have trouble, contact us! We're more than happy to help.
Horizontal Banding Explained
First it is important to confirm that the lines you are seeing are indeed Vertical.
Horizontal banding is the term used for any forms of lines that appear on a printed page. For the banding to be deemed as Horizontal, the lines must be in the Feed direction down the page regardless of whether the printed image is in portrait or landscape orientation.
Example of Horizontal banding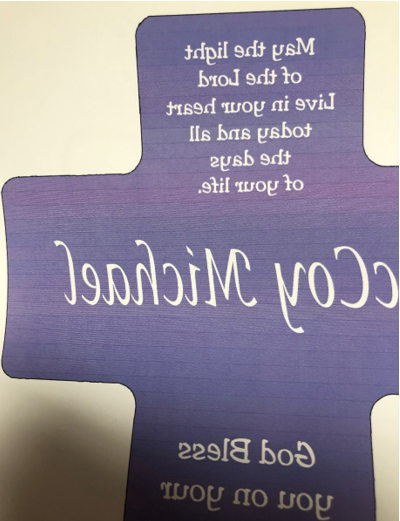 Different Causes of Horizontal Banding.
Missing Nozzles
Missing nozzles can display in various forms, from thin white lines in certain colours to thick horizontal bands on the print or even whole colours missing from a print if all nozzles are blocked.
The first step is to print a nozzle check.
Perfect Nozzle Check but Lines in Certain Colours
If the Nozzle Check has printed perfectly with no missing dashes then the next step would be to print a Primary Chart.
If lines are present in certain colours on the primary chart, we would recommend perform up to 5 Head Flushes.
Misaligned Paper Feed Adjustment
Horizontal lines on the pages present in all colours can be the cause of a misaligned Paper Feed Adjustment. As such we would recommend printing the Paper Feed test pattern and adjusting it if necessary.
How to Perform a Paper Feed Adjustment


Not Printing Using the Print Manager
Should you print simply using the default Sawgrass printer driver, the printer will not be applying the correct print quality, speed and profile to the image you are printing. This can not only result in incorrect colour output but also bands on the print as it will be printing too fast. As such, we always recommend you print using the Sawgrass Print Manager.
Windows: How to Print using the Print Manager
MacOS: How to Print using the Print Manager
If you are still experiencing issues or have further questions, please contact our Sawgrass Care Team for assistance by click the 'Support' button on the bottom right of the page, or click here.