Follow the procedure below to check and replace the Ink Collector Unit using the level indicator on the LCD Panel. When the time comes to replace the Unit, you may purchase a replacement Ink Collector from your Sawgrass Dealer.
The steps in this article apply to all Sawgrass model printers (SG400/500/800/1000).
Checking the Waste Ink Level
You can check the waste ink level by looking at the icon that appears above the waste ink full indicator.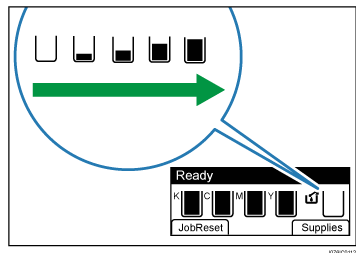 If the ink collector unit is almost full, the message "Ink Collector Almost Full" will appear on the display. Make sure you have a new ink collector on hand.
If the ink collector unit is full, the message "Ink Collector Unit Full/Replace Ink Collector Unit." will appear on the display.
At this point, Replace the ink collector unit.
Replacing the Ink Collector Unit
Take the ink collector unit out of the box.


Open the right front cover.

Wait at least five seconds, and then remove the full ink collector unit from the machine.

Pressing the part indicated "PUSH", pull it out horizontally.


Put the Ink collector unit in the supplied plastic bag.

Insert the new ink collector unit.

Slide the ink collector unit carefully into the machine until you hear it click.

Close the right front cover.

New Ink Collector Unit is Not Recognised
If you have replaced the collector unit with a new one, but the levels are still showing as full, we would recommend performing the following:


Remove the New Ink Collector unit from the printer.
Power the Printer Off and then On
Reinsert the new Ink Collector Unit once the printer has loaded.
If you are still experiencing issues or have further questions, please contact our Sawgrass Care Team for assistance by click the 'Support' button on the bottom right of the page, or click here.